We build & analyze your
performance & plug-in analytics
We have experienced a broad set of business challenges, data contexts and pricing strategies, across different continent, trade environments, and different levels of market development and data maturity. Because of this, we are able to deliver performance analytics solutions tailored to your unique business context and data landscape. We can externalize our in-house analytics solutions for adoption by your business teams, to enable ongoing Revenue Growth Management optimization, giving your teams even more independence, and bringing to life the RGM knowledge through simple visual solutions that enable faster decisions.

We externalize our analytics via industry standard solutions such as PowerBi, to make it easier to integrate our solutions with your existing IT systems.
We start with

integrating your internal and external data
One of the hardest challenges faced by companies when it comes to Revenue Growth Management is making your disparate data sources speak to each other. This is why we start from collecting, harmonizing and integrating the disparate data available to you, whether these are internal sales data, financial data, activity data, or external market, trade or competitive performance data. Thanks to this, we are able to create a consistent and integrative view of the business end-to-end, allowing us to surface insights and business opportunities that would otherwise go unnoticed. This also enables us to unite the organization around a common "true-view" of the business and a common set of KPIs vs. the plethora of department specific views that blinker your teams' business visibility.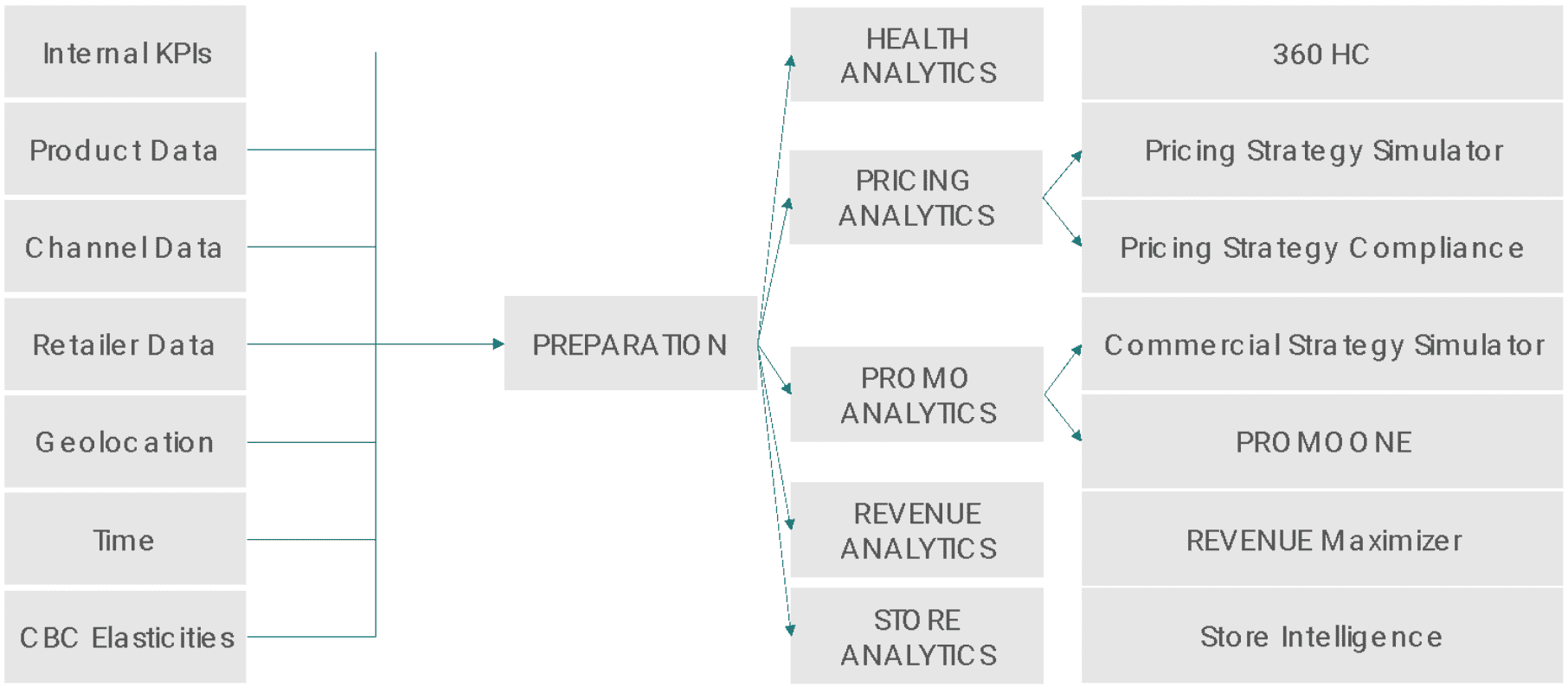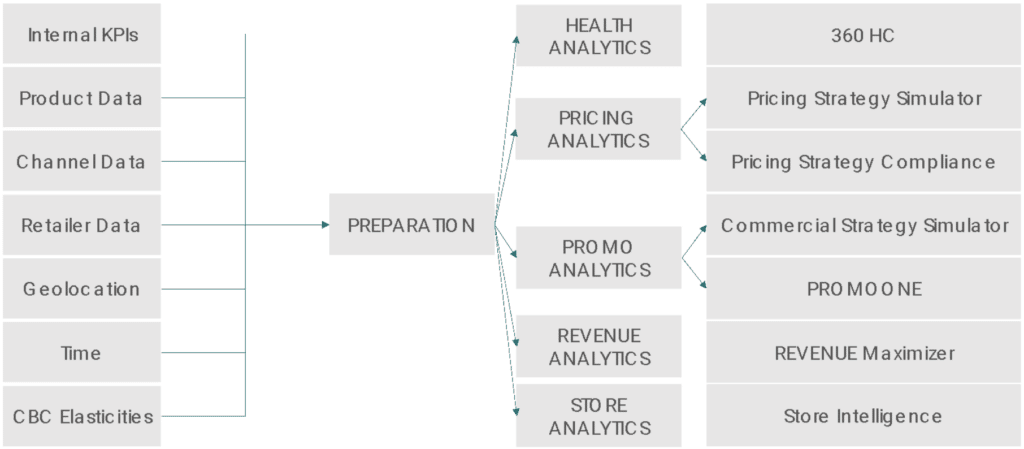 We can enrich your data with our

proprietary data sources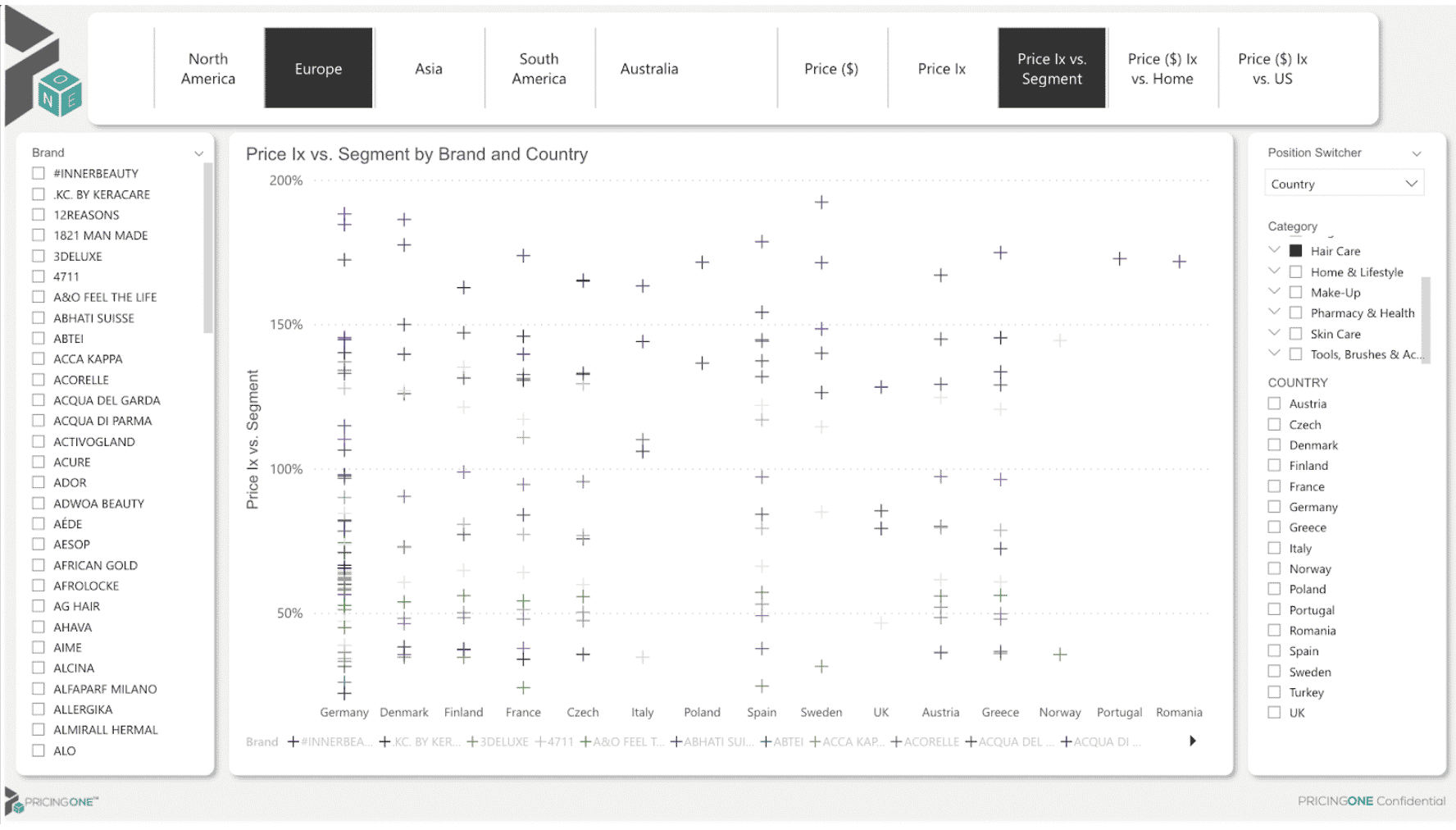 We can enrich your data with our proprietary data sources, where needed, such as scraping of prices, trade and promotional activities. This allows us to fill the holes where needed to provide a more complete view of your business context and challenges.
We also complement your historical sales data with our proprietary consumer research tools that allow us to bring projective scenario-based simulations of future pricing, assortment and promotional solutions.
We can also work with you on further raising your data maturity by identifying the knowledge gaps throughout your organization and identifying solution to close those gaps.
We amplify your data with our

advanced analytics
Once all available data are integrated, we amplify them with our battery of advanced analytics, tailored to your specific data and business context. This means our analytics work regardless of the level of data sophistication your different business units might be at today, thus accelerating roll-out across markets, and maximizing business impact regardless of context.
Our analytics models are designed against the 5 Revenue Growth Management levers enabling consistency between strategy and framework with in-market execution. This means we implement different analytics modules around Consumer Pricing, Pack Price Architecture, Mix Optimization, Promotional Performance and Retailer-level commercialization.
We provide an integrated solution that brings together the different modules into a full Revenue Maximization approach, that allows your business teams to develop integrative business plans across the 5 RGM levers, and track implementation and strategy compliance in one place.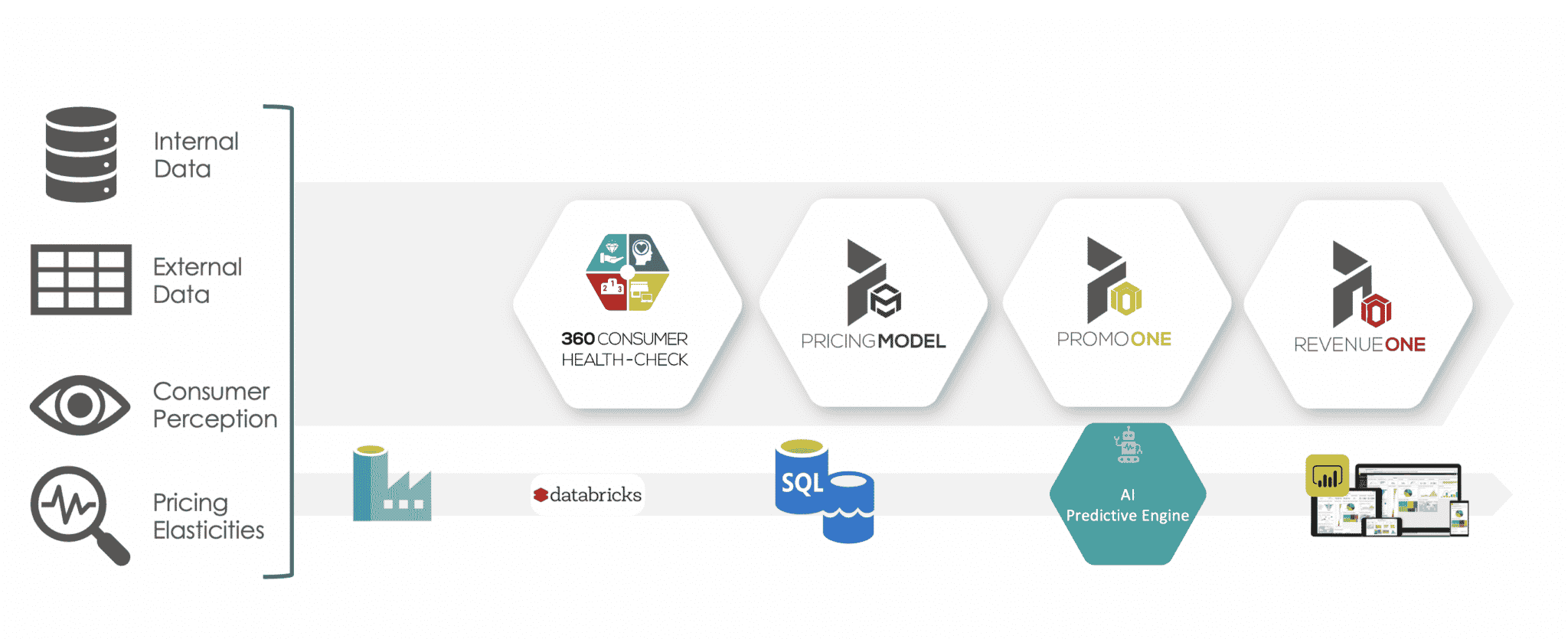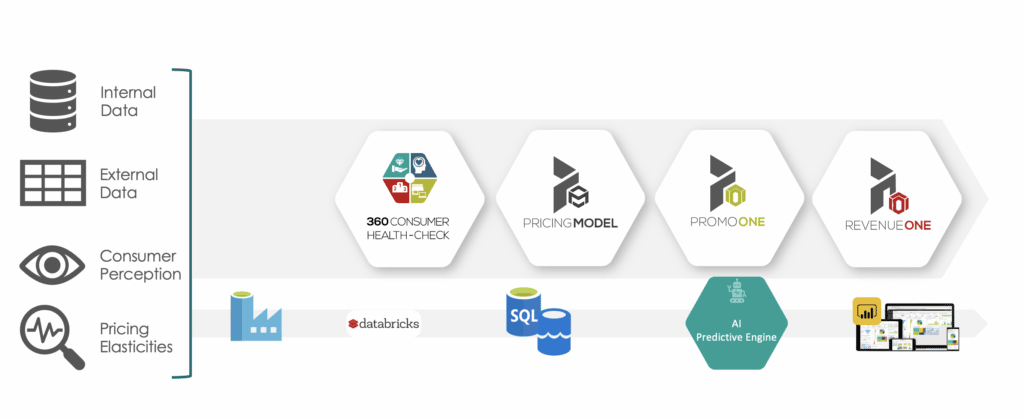 We externalize our analytics

via static or dynamic visual solutions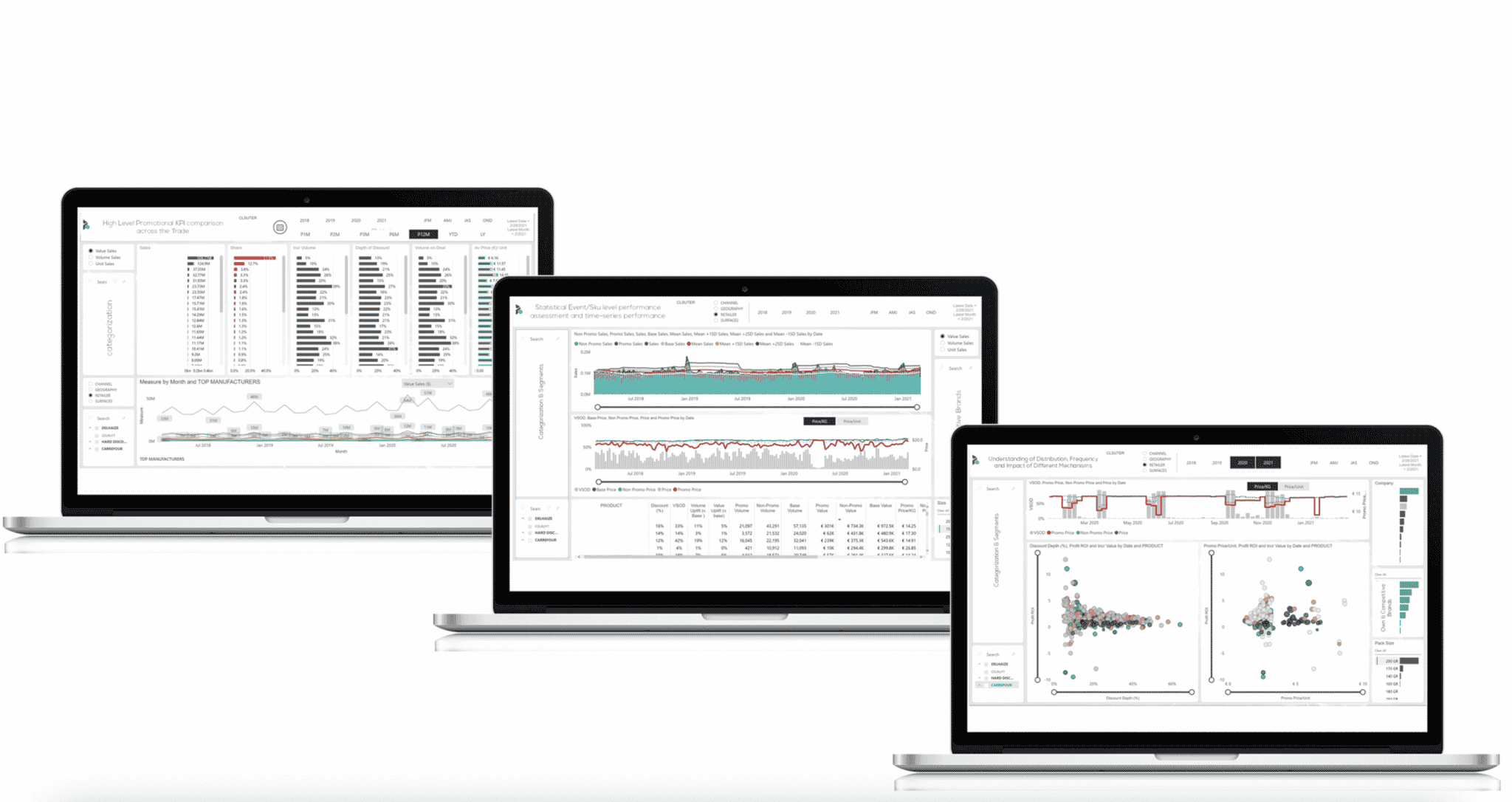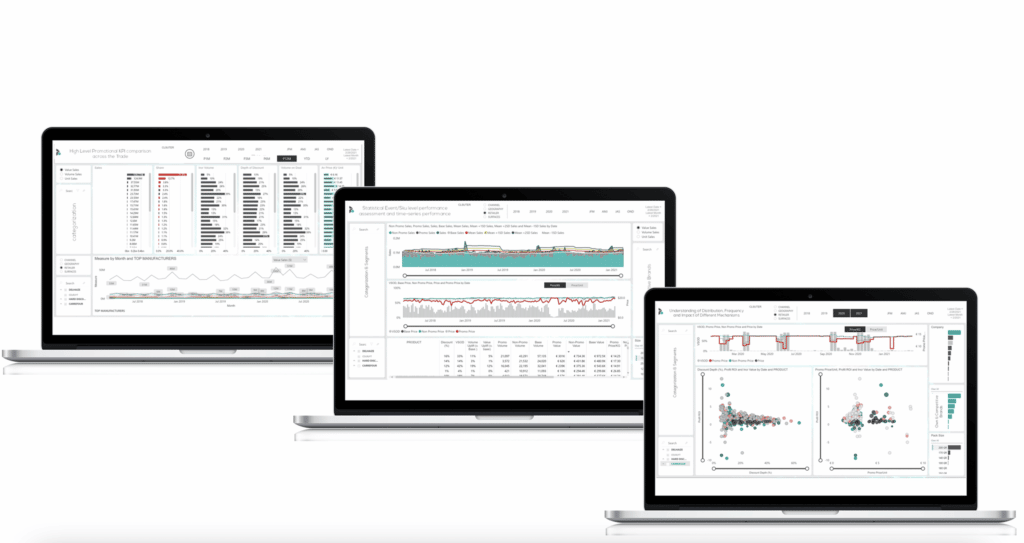 We know that different teams have different levels of appetites for technological solutions, this is why we externalize our analytics via the right solution for your teams, this can range from static Excel tables, static PowerPoint decks, dynamic Excel simulators and scenario planning tools, or fully integrated dynamic visual reports. The choice of externalization is tailored to what is right for your teams, and is co-developed with your organization to maximize adoption. This flexibility is critical, because the best solution is the solution with the widest adoption across the organization.
We also work closely with your teams to co-create the optimal front-end and visualizations that drive the most action and engagement within your teams. This is critical to the success of RGM solutions as it ensures that they are tailored to the needs of the organization and the level of data and technology maturity of the teams. Because the back-end analytical models are consistent, regardless of the choice of visualization, reporting or analysis solution that works for your teams, this allows for faster deployment across the organization, and reduces the learning curve for the teams.