We build

Pricing

&

Revenue Growth Management

strategies
We know how to build effective Pricing & Revenue Growth Management strategies for CPG companies. We work with your team to understand your company's unique value proposition and develop a pricing strategy that maximizes revenue and growth. We also help companies manage their pricing data and analytics to optimize their pricing strategies.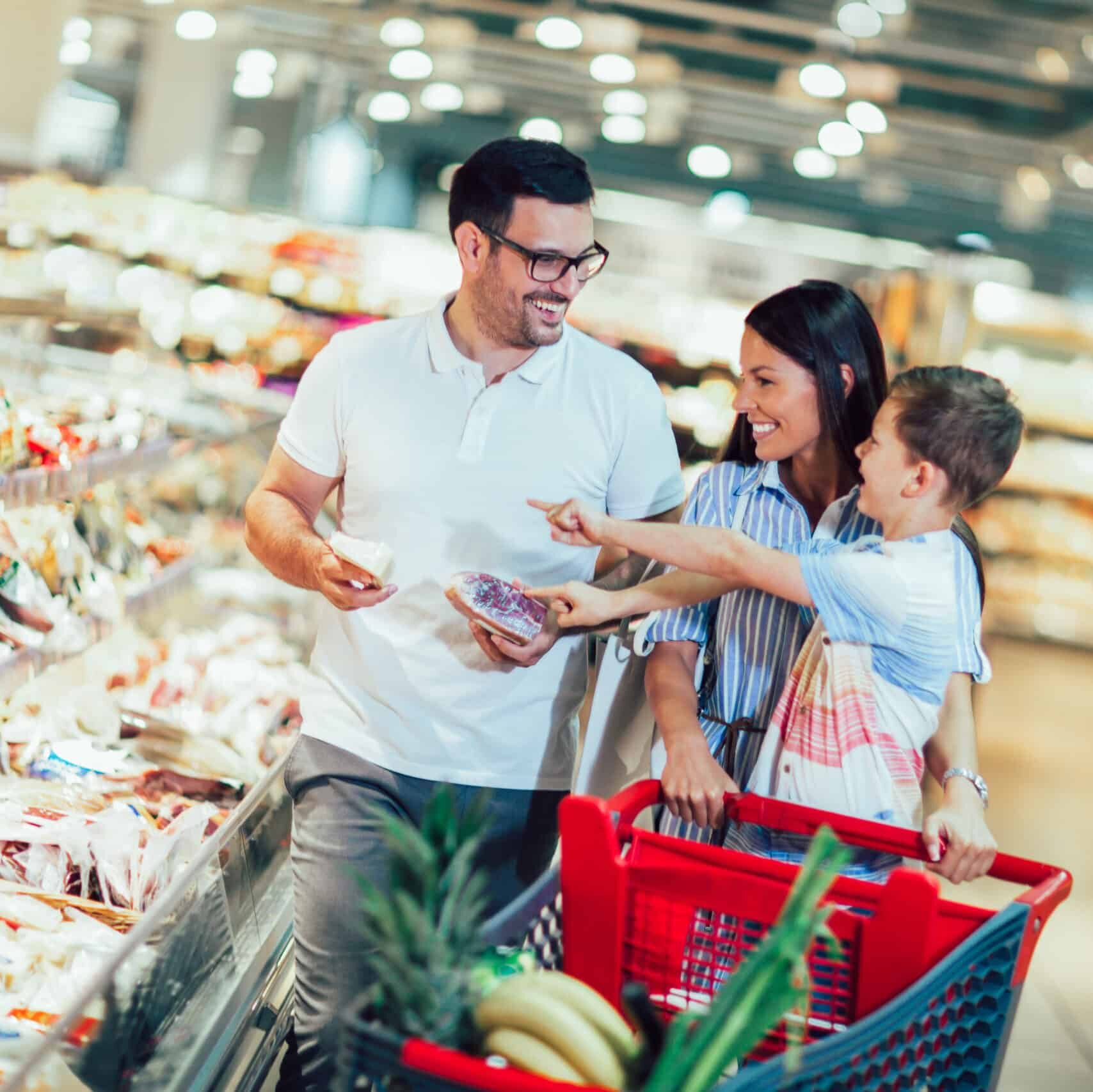 Why is it important to build a

Consumer-Centric

Pricing Strategy?
The world of business is full of many moving parts – markets, consumers, shoppers, retailers, distribution channels and your own company trends. All these are changing at incredible speed, which creates a complex environment for decision-making.
With raw material, energy and commodity inflation, technology disruption, supply chain challenges and geo-political tensions, it is more important than ever to have a clear and forward-looking view of where your company can generate sustainable revenue and profit growth.
A consumer-based pricing and revenue growth strategy is an essential pillar of successful business results in today's increasingly competitive environment. Not only does it help focus the entire organization on critical goals and KPIs, but it also helps your organization and commercial teams to engage and convince your distributors, retailers, partners and other external and strategic stakeholders. Easier said than done. Indeed, an RGM strategy is a complex initiative to undertake, but offers high rewards and, maybe more importantly, avoids the risks and pitfalls so many businesses fall into along the journey – going after short-term growth or ROI opportunities, and eventually missing genuine sustainable profitable growth.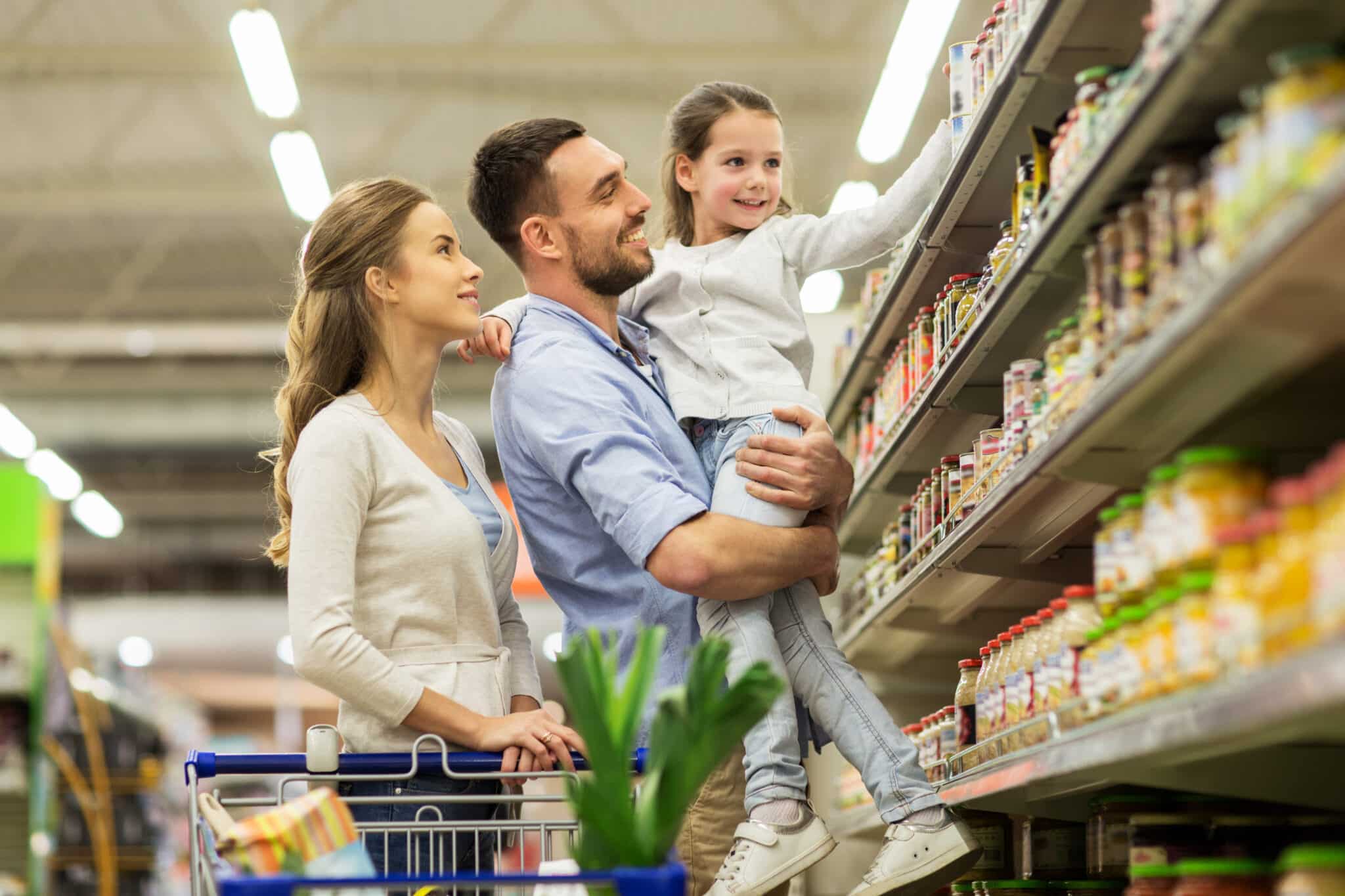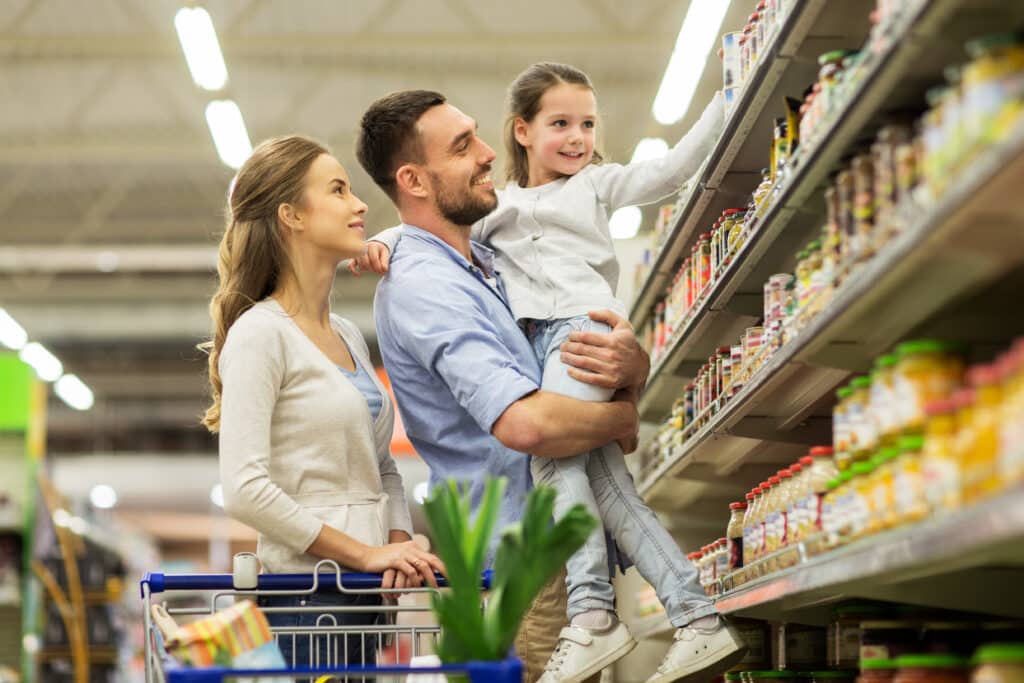 We determine the

Consumer Value

, the best

Communication Strategy

and define the

optimal Price Range

for your brand
The "Triple Win" – when the consumer, manufacturer and retailer all gain through the same initiative – is what we always keep front and center. This is at the heart of what we do at PricingOne. Successful, sustainable, Pricing and RGM strategies are based on the understanding of how much value your products and your brands create for your end-users: your consumers. Such strategies are the sum and integration of 15 distinct intervention areas that PricingOne assesses and quantifies, leveraging a diverse array of sales, financial, market trend, competitive and consumer data, that result in your own and your retail partners' success.
How we do it?  By building a consumer-centric Commercial Plan looking into :
Strategy
Segmentation
Occasion
Brand
Package & Product
Channel(s)
Price & Value
Promotion & Mechanic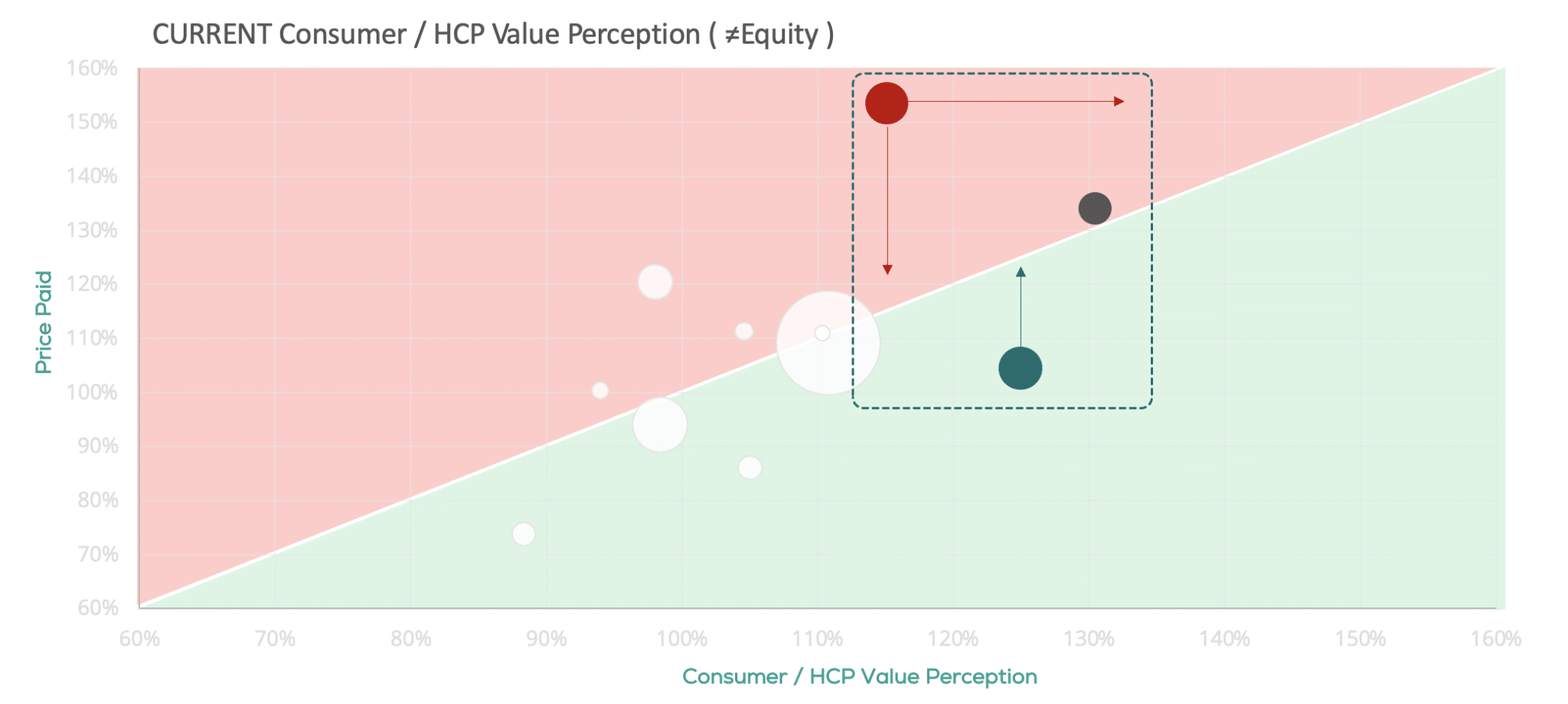 These intervention areas all fall under the 5 levers of Revenue Growth Management:

Gain insight into Consumer Value and Willingness to Pay. What are your brand optimal price position & cliffs? Identify features & cross-price elasticities.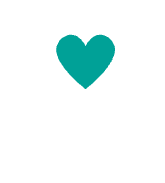 Pack Price/Size Architecture
Identify the right prices & sizes vs market trends. What should be the right assortment by channel and which innovations are incremental vs cannibalizing your business?

Learn what is the optimal product & channel mix, sku prioritization & distribution focus.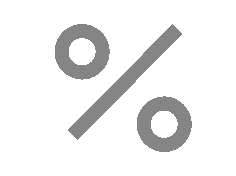 Identify the strategic role of each price promotion, Build an optimal price promotion plan using optimal promotion mechanics. Differentiated Commercial Plans
Organize an integrated RGM Execution plan, alongside a compelling trade narrative, while maximizing value for portfolio & trade.
To attain our goals, we employ a distinctive integration of four models: category & brand analysis, shopper & consumer sensitivities (via proprietary consumer testing), and sales and financial models. This innovative approach yields powerful and highly predictive forward-looking simulations. We utilize these simulations internally to develop winning commercial plans, optimizing all 5 RGM levers for the best possible outcomes.
This integrated approach enables us to quantify and predict Consumer Value, for brands, products, innovations and specific features or benefits. Starting from this, we create fair, data-driven, commercial plans, by bringing prices, mix, promotions and revenue growth levers to optimal levels. When building retailer-level pricing strategies, we include more details on promotion elements such as trade environment alignment, optimal effectiveness & incrementality, or commercial plans that are applied to each of your different retailers, distributors or channels.
We build

Regional and Global

Pricing Strategies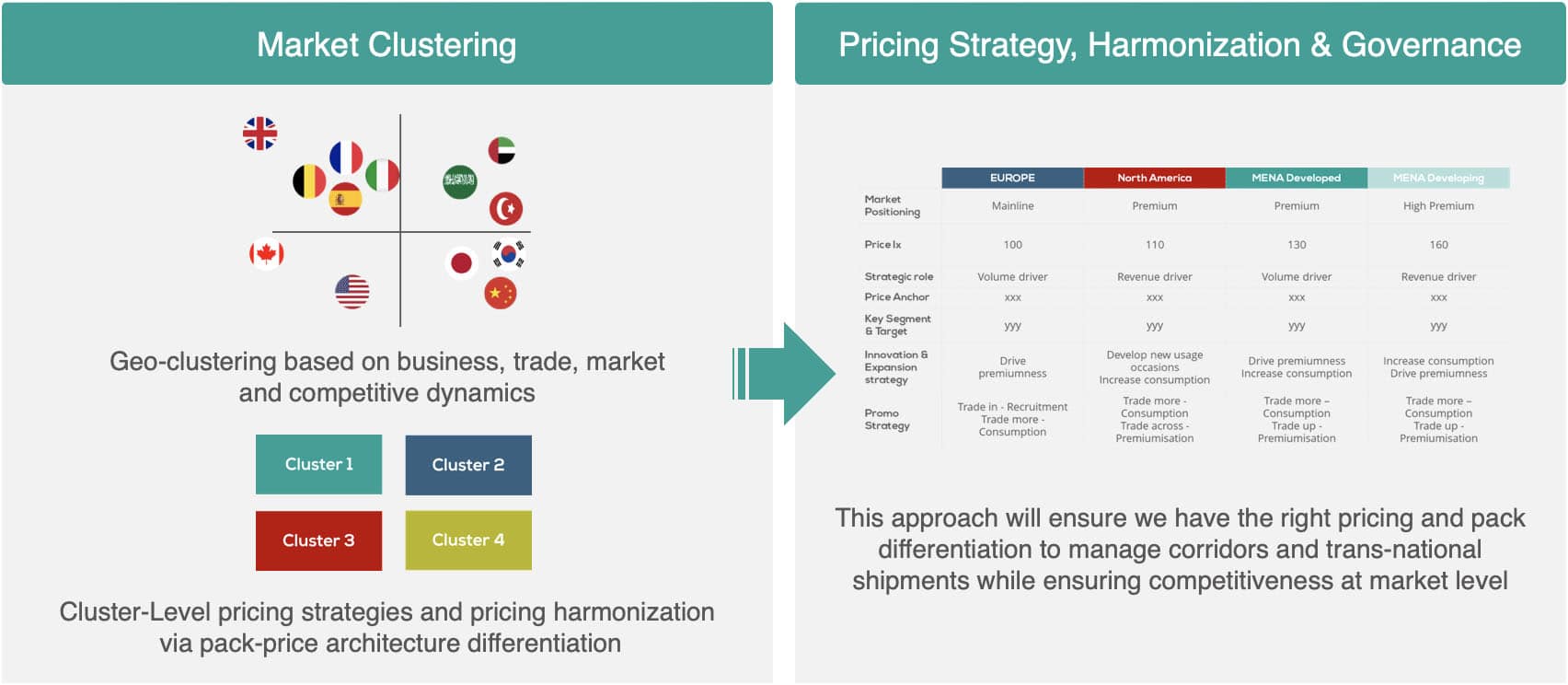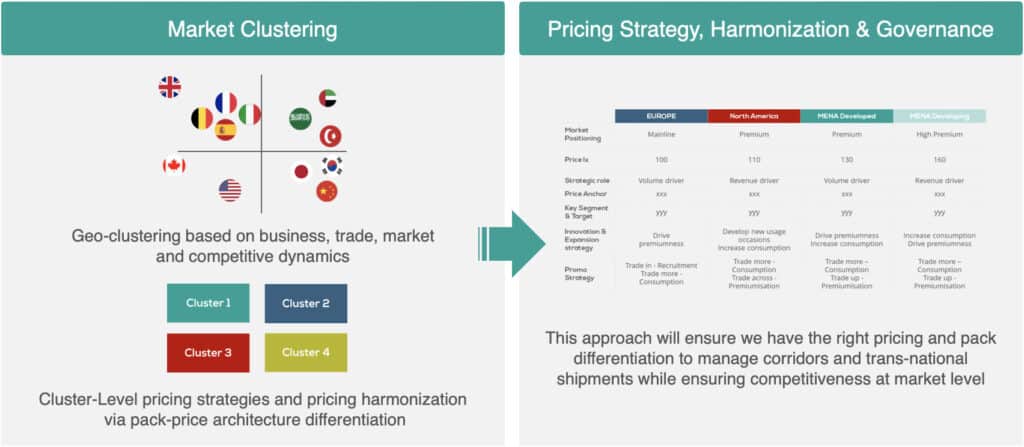 In addition to national and retailer-level pricing & RGM strategies, we extend our expertise to crafting regional and global strategies, with a strong focus on pricing and governance. Our process begins by creating geo-clusters of your key markets, considering common traits, business, trade, consumer, market and competitive dynamics. From there, we define pack price strategies for the lead markets within each geo-cluster. Subsequently, we develop cluster-level pricing strategies and carefully manage pricing harmonization through pack price architecture differentiation.
This comprehensive approach ensures optimal pricing and pack differentiation, while effectively managing pricing corridors and trans-national (cross-border) shipments. By implementing this strategy, we sustain competitiveness at every key market level, resulting in a successful global pricing and governance framework tailored to your business's unique needs.